Sheeple
Skepticalness has been absent-not-taught from ghlupman being early ages, childcare indoctrinassed negligence brings to society gorilla-eyed individuals weirdly fascinated by cgi footage of dreamed pearbolic landscapes. Dome psyche protective environment is lacking, and counter-placebo strategies affect no more. People became blind-faithed primitive followers, parents show themselves as stubborn-self-confident sheperds, and oracle-promised childs flourish like red-rose
sheeples
. Derp.
(slang word genesis)
Gorilla
Emptyhands–astronots daily work material includes all kind of indoctrinating cgi'ed naza sorcery obtained by swindling structural practices in the form of rudimentary adhesives. Apparatus surfaces, eroded silver foils, leaking junctions, shamelacking zero G and oxigen purifying derpvices. Globintologists are known as talented profit–earning professionals, detrimental to the wellbeing of ancient Flattardian culture upkeep. Roses are red, Sun Subend and ISS is fixed with
Gorilla Tape
. case closed. try me glups.
(slang word genesis)
Subend
Sun never–rises­—never–sets at FE firmament. Rays travel endlessly around the pharaonic glass dome, lighting the specific spectrum of sky, due to the lack of nasshole-so-called indoctrinated grabbidey. Light doesnt bend over space-time unless atmospheric dome refraction causes the shining from distant things to "bend upwards". Sun appears to vanish from the bottom up, as you gain altitude rays bend upward and come back into your eyes, the flerp-so-called
Subend
. chekmate. try me balltard.
(slang word genesis)
Carol Oracle [ł] (dark l)
Eyeball aureole on the prowl,
growl lall, prole soul yowl,
y'all loyal scowl low overall.
Holo owl color OL protocol,
troll doll grow cloud tall.
Ancestral fractal enthral cathedral hall.
Sokol sole hold whole keyhole,
Pollock glory hole gloss gold lidl idol.
Tropical capitol call appal,
cloned sol clown benzol insole.
Log-on slow folklore chloro wall,
alcohol menthol as condole.
Exceptional small wall,
firewall install, survival.
Tongue twisters are an interesting cynical case of cultural study. They have the ability to catch your attention since the poetry technique of alliteration is in their nature. We could say that their purpouse is cynical since they are used to proof and make fun of the articulatory limitations of fellow humans. In the other hand they can be seen as a game, and this is what makes them interesting as a strategy to create group identity. They are meant to be memorized, challenged and proposed as group activity in monotonous situations.
Access
Zip Tag Sign Tie
The industrial nature of cable ties makes them acquire certain connotations related to durability, roughness and utilitaryness.
Recently Nike decided to translate this object into a different context, the context of fashion fetishism, where the sense of ownership and its priviledge are closely related to the sense of identity, class identity. By locking an object with a non-return cable tie you increase its value. Breaking the cable tie is an act of devaluating your owned fetish and by doing so you also devaluate your own identity.
The Cross. The Human. The Shelter.
The Déjà Vu occurs every ten years, as if they do not let you pass through the Limen
1
. There is a never ending loop in bureaucracy, you are asked to reaffirm your lifetime state as individuo in a kind of governmental loss of memory. The question keeps developing, degenerates, and it requires an answer which undergo a painful metamorphosis: 'In the beginning it was without form and void'
2
, the diagonal Cross
3
, inside the blank square.
1. Arnold Van Gennep. 1960. The Rites of Passage. Routledge Library Editions, Anthropology and Ethnography. p.21.
2. Jewish Tanakh and Christian Old Testament. Genesis 1:2.
3. Adrian Frutiger. 1989. Sign and Symbols, Their Design and Meaning. Van Nostrand Reinhold. p.50.
DNA Data
Racial identity was treated as Data. The dehumanizing effects of excessive bureaucracy gave rise to a new way of alienation: the virtuality of checking off your own roots. Race became a box, the X became a Heritage.
Perhaps Some Other Stuff
The new individuo is a Perpetual Foreigner
1
, his homeland is fragmented. He is from everywhere and anywhere, but he didn't struggle to accept it, he was born surrounded by alike human beings. No matters how many pieces is his homeland made of, he lost the track. He never worried because his individual identity has a fluid nature, it is placeless but priceless.
His status was discussed at the Pre-Foundational Moment
2
Assembly on August 25th 1997 at Capitol Hill, Rayburn House Office Building, House Government Reform & Oversight Subcomittee on 'Year 2000 Census and Race Classifications':
"I've come this morning particularly to hear about the new proposal to allow people to check multiple boxes. All I can say is watch out. I can imagine what kind of confusion may come from multiple boxes, I know this much. Those who come forward wishing a category to recognise their mixed parentage are very sincere and I am very much sympathised with what they are doing. They come forward seeking a real solution to their dilema, my problem is I do not believe that solution is found in an official document of the United States, as to several categories indeed even ask to the multicategory. I hope we do not now bring down upon us finding games on the sentences, people trying to identify themselves in multiple ways and in ludicrous ways. We got to not only ask ourselves what are we after but how will Americans receive this question? and I can imagine how 'Generation X' for example would have received the multiethnic question or the multiracial question, not to mention check off how many boxes you feel like checking off, this is a serious business, there is much steak here. I very much look forward to hearing how ONB describes the discipline in its multiple boxes because that's what I am interested in. I am also interested in finding a way for people of mixed heritage, or at least mixed parentage, if they desire to indicate that mixed parentage. I don't believe we want to intrude on this categories that we've learnt to live with. Finally mister chairman let me say this: 'We are not, when we talk about multiracial categories in this country, only talking about a category, we are talking about not a new category but a new race, and if you do not believe that is the case I invite you to look at the history of the West Indies of Brazil and South America, where indeed they have long been a multirracial category, that is not a category, what attaches to that category have been a whole set of distinctions, privileges, benefits, and lack of shame, the last thing we need in this country, giving the role races played, is a new category that developes into a new race. I ask that we understand that we are not dealing with this unrelated to history either of our country or the world, and that we do not punch into new racial directions in an official way without understanding all the implications. Thank you mister chairman."
3
Eleanor Holmes-Norton, D-District of Columbia.
The committee member unconsciously suggested a Third Way, dealing with the confusion and exhaustion of bureaucracy, the privacy, anti-establishment and distrust on Data compilation intentions through official documents. Multiracial citizen Barbara Weathers declared
4
and gave us the authentic revolutionary Census Race question box option: 'I am Black, Puerto Rican and Perhaps Some Other Stuff'.
1. Katie Cunningham. January 2015. Interview with Christine Munteanu. Smithsonian Center for Folklife and Cultural Heritage.
2. House Oversight Committee. August 25th 1997. Product 88402-1-DVD. Census 2000 Racial Classifications. Youtube.
3. Ibid. 15:50 -19:09.
4. No Author. No Date. Multiracial Celebrities. blackflix.com
This is your future. Don't leave it blank.
Big Data is, by definition, data compiled by computational algorithms, this futuristic Cloud Computing Companies employees are non-paid virtual self-contained step-by-step set of operations. The United States, emblem of the Western World, recogniced in 2000 that peoples identity was changing by modifying the Census question about race: 'Mark one or more boxes'. This fact was the Foundational Moment of a new identity movement, the Hypermixed—futurism, exponentially growing and called to end with traditional racism and colonialism. The Prophets of that movement were unconscious and subliminal, they spread the message and implemented the peoples demands: they were known as the Census Takers. You could recognize them because they were wearing a Lapel Pin, as if they were marked by the government with an International Quality Standard or Medal of Honor, for sustained meritorious service, in a civilian capacity. This Analog Entry Boxes or Millennial Compiling Bots didn't realize that their merit medal identity insignia was an invitation for a social revolution: 'This is your future. Don't leave it blank.'
1. Anthony Browne. 3 September 2000, 17.02 BST. The last days of a white world. theguardian.com.
2. U.S. Census Bureau. 2010. Paperwork Project 0607-0919-C.
3. Annalee Newitz. 21 March 2016, 10.20 PM. Facebook explains that it is totally not doing racial profiling. arstechnica.com.
Image: 'US Census pin from 2000'. US $3.99. ebay.com
Silver Surfer
North Hemisphere, year 2055 approximately. White population just became minority in US and Europe as 2000 US census statistics predicted
1
. Migration and Low Cost Flights diaspora provoked Racial Fluidity. Ethnic groups from all over the world got mixed and remixed, specially in Western countries. Racial census is already useless, people have difficulties to catalog themselves. 'What is this person's race?'
2
multiculturality makes this census question awkward. Identity is a current issue, we live in a very diverse world in which most of the people have more than two different ethnic roots. Vietnamese father, Caucasian mother, Persian maternal grandmother and Basque paternal grandfather makes a Hypermixed family tree. That means a very strong individual identity: the 'Silver' status.
Our social relations are digital-based, social networks and real life coexist. The new scenary has a lack of group identity, but our time-line digital interactions keep feeding the Big Data. Facebook is still the main data catalyst and it does not believe in phisical ethnicity but instead it uses the term Performative Identity
3
. it suggests that people are a collection of actions and the way they 'Surf' the Internet says more about who they are than whether they have dark skin or where their family is from. Big Data makes racial census unnecessary, it directly catalogs you on an ethnic group. The 'Silver Surfers' are virtually catalogued but race-free human beings.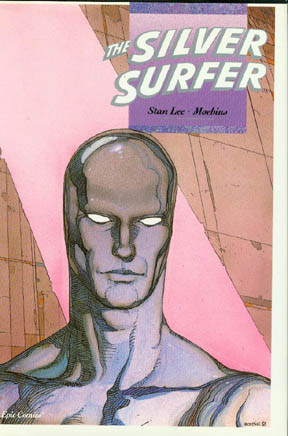 1. Anthony Browne. 3 September 2000, 17.02 BST. The last days of a white world. theguardian.com.
2. U.S. Census Bureau. 2010. Paperwork Project 0607-0919-C.
3. Annalee Newitz. 21 March 2016, 10.20 PM. Facebook explains that it is totally not doing racial profiling. arstechnica.com.
Image: Stan Lee, Moebius. 1988. Silver Surfer: Parable. Marvel.
SI/WT
I describe my approach to design as structuralist. I am fascinated by meaningful sequences of human activities with intrinsic patterns, also known as Structures. I am interested in linguistics and the way they articulate in different social systems. I appreciate diversity and hybridization, therefore I research on the dystopian side effects of standardization. I see standardization in human rituals, the objects involved and the structures behind them.
My practice has been based on developing speculative language systems for fictional subcultures or minority ethnic groups that came up following structures based on inaccurate standards. Language is the most powerful way to build a group identity and it represents one of the clearer demonstrations of value in a social system, in other words, culture.
Standardization is a structural human behavior, we can see categorization in all kinds of societies, from primitives to western hypermodern. Claude Lévi–Strauss in its book 'The Savage Mind' describes the pragmatism of the 'Savages' versus the irrational over–categorization of the western scientists.
Globalization makes this tendency to over–standardize more clear and it comes up as a new way of colonization. The richness of our world is diversity, the universal agreements seem to be close to absurdity in a world with more than 1000 ethnicities. Many different logical thinkings from the sacred to the profane, the rational to the magical. I resist this paternalistic model because it assumes a fixed position of authority. The misuse of standards is, most of the times, not a simple negligence but a whole set of interests, distinctions, privileges, benefits, and lack of shame of nations, big corporations and individuals.
My proposal is a platform that researches, points out and speculates on the traces of Dysstandardization in the form of fictional Language Systems surrounded by objects, spaces, rituals, stories and other cultural elements that together will shape the new ethnic groups, in a kind of Archaeology of the Future.
MA programme application.
El Elixir Duplicador
Imaginemos un intercambio infinito, de mano en mano, disco duro en disco duro, servidor en servidor, desde Internet hasta la Nube
1
. Que, como una red de arrastre, acumule y registre una era. Sea su retrato.
Miremos Internet y veamos el uso y desarrollo contemporáneo de las imágenes que los usuarios realizan. Podemos observar cómo la figura del diseñador gráfico se difumina, tener una cuenta en una Red Social nos convierte en productores, reproductores y coleccionistas de imágenes.
Hemos pasado de recolectar para sobrevivir a coleccionar por placer. De recolectar frutos y leña a .jpgs, .pdfs, .avis, .gifs. Estamos hablando de la Era Digital, consecuencia del Capitalismo del siglo XX, hija de la Revolución Digital y caldo de cultivo de la cultura Post-Internet. La reflexión que nos ocupa es el uso, intercambio y desarrollo del archivo digital contemporáneo, y en concreto su valor, directamente relacionado con su proceso de abstracción.
Construimos identidades a través de colecciones
2
, el objeto de colección tiene un valor, el valor que le da el espectáculo
3
que produce. Es un valor abstracto, de intercambio, del mismo modo que empezamos a acuñar monedas hoy programamos 'likes' 'retweets' 'favs' 'reblogs' 'pins'. El objeto es un archivo digital, hecho que eleva el nivel de abstracción. La mercancía es virtual y nosotros, la masa, alienada, somos productores, en un proceso supertecnológico que elimina nuestra conciencia de producción y la convierte en contemplación. Copiar, pegar, descargar, rippear, cortar, mezclar, subir, compartir, rebloguear
4
. Como sumergidos en un 'Elixir Duplicador'
5
retro futurista.
1. Metahaven. 2013. Captives of the Cloud, Part III: All Tomorrow's Clouds. e-flux.
2. Paul van der Grijp. 2006. Passion and Profit, Towards an Anthropology of Collecting. Lit. p.8.
3. Guy Debord. 1967. La Société du Spectacle.
4. Hito Steyerl. 2009. In Defense of the Poor Image. e-flux.
5. Fujiko Fujio. 1973-1996. Doraemon: El Elixir Duplicador. Youtube.
About The Netherlands
Many times I have had to explain my experience in The Netherlands. And many times I will have to, because when I talk about design I cannot avoid talking about this country. There is where my thoughts started being less confusing.