The Cross. The Human. The Shelter.
The Déjà Vu occurs every ten years, as if they do not let you pass through the Limen
1
. There is a never ending loop in bureaucracy, you are asked to reaffirm your lifetime state as individuo in a kind of governmental loss of memory. The question keeps developing, degenerates, and it requires an answer which undergo a painful metamorphosis: 'In the beginning it was without form and void'
2
, the diagonal Cross
3
, inside the blank square.
1. Arnold Van Gennep. 1960. The Rites of Passage. Routledge Library Editions, Anthropology and Ethnography. p.21.
2. Jewish Tanakh and Christian Old Testament. Genesis 1:2.
3. Adrian Frutiger. 1989. Sign and Symbols, Their Design and Meaning. Van Nostrand Reinhold. p.50.
DNA Data
Racial identity was treated as Data. The dehumanizing effects of excessive bureaucracy gave rise to a new way of alienation: the virtuality of checking off your own roots. Race became a box, the X became a Heritage.
Perhaps Some Other Stuff
The new individuo is a Perpetual Foreigner
1
, his homeland is fragmented. He is from everywhere and anywhere, but he didn't struggle to accept it, he was born surrounded by alike human beings. No matters how many pieces is his homeland made of, he lost the track. He never worried because his individual identity has a fluid nature, it is placeless but priceless.
His status was discussed at the Pre-Foundational Moment
2
Assembly on August 25th 1997 at Capitol Hill, Rayburn House Office Building, House Government Reform & Oversight Subcomittee on 'Year 2000 Census and Race Classifications':
"I've come this morning particularly to hear about the new proposal to allow people to check multiple boxes. All I can say is watch out. I can imagine what kind of confusion may come from multiple boxes, I know this much. Those who come forward wishing a category to recognise their mixed parentage are very sincere and I am very much sympathised with what they are doing. They come forward seeking a real solution to their dilema, my problem is I do not believe that solution is found in an official document of the United States, as to several categories indeed even ask to the multicategory. I hope we do not now bring down upon us finding games on the sentences, people trying to identify themselves in multiple ways and in ludicrous ways. We got to not only ask ourselves what are we after but how will Americans receive this question? and I can imagine how 'Generation X' for example would have received the multiethnic question or the multiracial question, not to mention check off how many boxes you feel like checking off, this is a serious business, there is much steak here. I very much look forward to hearing how ONB describes the discipline in its multiple boxes because that's what I am interested in. I am also interested in finding a way for people of mixed heritage, or at least mixed parentage, if they desire to indicate that mixed parentage. I don't believe we want to intrude on this categories that we've learnt to live with. Finally mister chairman let me say this: 'We are not, when we talk about multiracial categories in this country, only talking about a category, we are talking about not a new category but a new race, and if you do not believe that is the case I invite you to look at the history of the West Indies of Brazil and South America, where indeed they have long been a multirracial category, that is not a category, what attaches to that category have been a whole set of distinctions, privileges, benefits, and lack of shame, the last thing we need in this country, giving the role races played, is a new category that developes into a new race. I ask that we understand that we are not dealing with this unrelated to history either of our country or the world, and that we do not punch into new racial directions in an official way without understanding all the implications. Thank you mister chairman."
3
Eleanor Holmes-Norton, D-District of Columbia.
The committee member unconsciously suggested a Third Way, dealing with the confusion and exhaustion of bureaucracy, the privacy, anti-establishment and distrust on Data compilation intentions through official documents. Multiracial citizen Barbara Weathers declared
4
and gave us the authentic revolutionary Census Race question box option: 'I am Black, Puerto Rican and Perhaps Some Other Stuff'.
1. Katie Cunningham. January 2015. Interview with Christine Munteanu. Smithsonian Center for Folklife and Cultural Heritage.
2. House Oversight Committee. August 25th 1997. Product 88402-1-DVD. Census 2000 Racial Classifications. Youtube.
3. Ibid. 15:50 -19:09.
4. No Author. No Date. Multiracial Celebrities. blackflix.com
Image: Barbara Weathers in the 80's.
This is your future. Don't leave it blank.
Big Data is, by definition, data compiled by computational algorithms, this futuristic Cloud Computing Companies employees are non-paid virtual self-contained step-by-step set of operations. The United States, emblem of the Western World, recogniced in 2000 that peoples identity was changing by modifying the Census question about race: 'Mark one or more boxes'. This fact was the Foundational Moment of a new identity movement, the Hypermixed—futurism, exponentially growing and called to end with traditional racism and colonialism. The Prophets of that movement were unconscious and subliminal, they spread the message and implemented the peoples demands: they were known as the Census Takers. You could recognize them because they were wearing a Lapel Pin, as if they were marked by the government with an International Quality Standard or Medal of Honor, for sustained meritorious service, in a civilian capacity. This Analog Entry Boxes or Millennial Compiling Bots didn't realize that their merit medal identity insignia was an invitation for a social revolution: 'This is your future. Don't leave it blank.'
1. Anthony Browne. 3 September 2000, 17.02 BST. The last days of a white world. theguardian.com.
2. U.S. Census Bureau. 2010. Paperwork Project 0607-0919-C.
3. Annalee Newitz. 21 March 2016, 10.20 PM. Facebook explains that it is totally not doing racial profiling. arstechnica.com.
Image: 'US Census pin from 2000'. US $3.99. ebay.com
Silver Surfer
North Hemisphere, year 2055 approximately. White population just became minority in US and Europe as 2000 US census statistics predicted
1
. Migration and Low Cost Flights diaspora provoked Racial Fluidity. Ethnic groups from all over the world got mixed and remixed, specially in Western countries. Racial census is already useless, people have difficulties to catalog themselves. 'What is this person's race?'
2
multiculturality makes this census question awkward. Identity is a current issue, we live in a very diverse world in which most of the people have more than two different ethnic roots. Vietnamese father, Caucasian mother, Persian maternal grandmother and Basque paternal grandfather makes a Hypermixed family tree. That means a very strong individual identity: the 'Silver' status.
Our social relations are digital-based, social networks and real life coexist. The new scenary has a lack of group identity, but our time-line digital interactions keep feeding the Big Data. Facebook is still the main data catalyst and it does not believe in phisical ethnicity but instead it uses the term Performative Identity
3
. it suggests that people are a collection of actions and the way they 'Surf' the Internet says more about who they are than whether they have dark skin or where their family is from. Big Data makes racial census unnecessary, it directly catalogs you on an ethnic group. The 'Silver Surfers' are virtually catalogued but race-free human beings.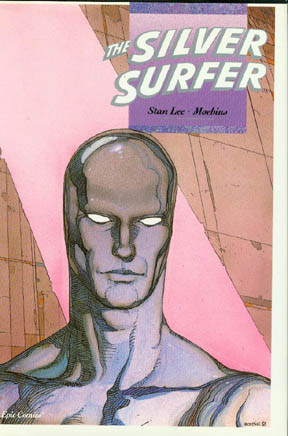 1. Anthony Browne. 3 September 2000, 17.02 BST. The last days of a white world. theguardian.com.
2. U.S. Census Bureau. 2010. Paperwork Project 0607-0919-C.
3. Annalee Newitz. 21 March 2016, 10.20 PM. Facebook explains that it is totally not doing racial profiling. arstechnica.com.
Image: Stan Lee, Moebius. 1988. Silver Surfer: Parable. Marvel.
Hypermixed—futurism
We are facing a hypermixed, non-racial future, and as it happened with the concept of 'Afrofuturism' we already need to imagine, interrogate and speculate about the dilemmas of this fictional scenario in a world that still struggles to accept multiculturality. My first research proposal is about the lack of group identity for the mixed race people and, however, their plenty of individual identity. I am actually a hybrid, half Spanish, half Persian, my origins and cultural behaviour are in constant social conflict since I grew up in Spain. In this terms I am interested in hybridization and language. Language is in fact an essential tool to build this group identity and it represents one of the most clear demonstrations of value in a social system, in other words: culture. The resulting speculative language system, and its respective OpenType file, will need to undergo a 'Transliteration' among other formal story-telling solutions in order to work together and create this cultural scenario. In this field I am also interested on the concept of 'Rosetta stone' as a powerful decrypting database and its boundaries between legibility and illegibility in which we will need to involve the figure of the 'hacker'.
Identity, as Boris Groys says in his recent essay 'Self-Design, or Productive Narcissism'
1
, has become a Design issue, and it is the result of a lack of interest in society but a focus on oneself. What if we reverse this situation? What if instead of a 'narcissistic' individuo we would have a 'narcissistic' group attitude? The development of design strategies to flip this social course is a goal. In this way one of my main interests is the Open Form
2
method developed by polish architect Oskar Hansen and its students, as opposition to socialist realism stiff and mass-oriented doctrine in the 50s. This method explores a 'co-authoring' approach in which invidual interventions produce an outcome that evolves and keeps changing and adapting to its users in a 'Self-Design' group behaviour.
The term 'hybrid' in the 'Hypermixed-future' has to do, not just with the mix of skin pigments or superficial characteristics, but mostly with the 'logical' ways of thinking of each of these 'origins' that a hypermixed-person is made of. As we know each culture has its own 'logic', if somebody grow up with parents from two different cultures will have two points of view on reality. How do this 'logic' developes in a hypermixed-logic society? How do this 'change' or 'hybridization' in the logic would shape the new scenario? How different would be the culture of the future? What logic would survive? Does the principle of 'natural selection' affect culture? Lets start having imaginary children.
1. Boris Gorys. 2016. Self-Design, or Productive Narcissism. e-flux.
2. Axel Wieder, Florian Zeyfang. 2014. Open Form. Space, Interaction, and the Tradition of Oskar Hansen. Sternberg Press. p.23.
SB
I describe my approach to design as structuralist. I am fascinated by meaningful sequences of human activities with intrinsic patterns, also known as Structures. I am interested in linguistics and the way they articulate in different social systems. I appreciate diversity and hybridization, therefore I research on the dystopian side effects of standardization. I see standardization in human rituals, the objects involved and the structures behind them.
My practice has been based on developing speculative language systems for fictional subcultures or minority ethnic groups that came up following structures based on inaccurate standards. Language is the most powerful way to build a group identity and it represents one of the clearer demonstrations of value in a social system, in other words, culture.
Standardization is a structural human behavior, we can see categorization in all kinds of societies, from primitives to western hypermodern. Claude Lévi–Strauss in its book 'The Savage Mind' describes the pragmatism of the 'Savages' versus the irrational over–categorization of the western scientists.
Globalization makes this tendency to over–standardize more clear and it comes up as a new way of colonization. The richness of our world is diversity, the universal agreements seem to be close to absurdity in a world with more than 1000 ethnicities. Many different logical thinkings from the sacred to the profane, the rational to the magical. I resist this paternalistic model because it assumes a fixed position of authority. The misuse of standards is, most of the times, not a simple negligence but a whole set of interests, distinctions, privileges, benefits, and lack of shame of nations, big corporations and individuals.
My proposal is a platform that researches, points out and speculates on the traces of Dysstandardization in the form of fictional Language Systems surrounded by objects, spaces, rituals, stories and other cultural elements that together will shape the new ethnic groups, in a kind of Archaeology of the Future.
1.
2.
MA programme application.
WT
I describe my approach on design as structuralist. I am fascinated by meaningful sequences of human activities with intrinsic patterns, also known as Structures
1
.
I am interested in linguistics and fiction. My practice is based on developing speculative language systems for fictional subcultures or minority ethnic groups. Language is the most powerful way to build a group identity and it represents one of the most clear demonstrations of value in a social system, in other words culture.
I am fascinated by diversity and hybridization, therefore I research on the dystopian side effects of standarization. I see standarization in human rituals
1
, the objects involved and the structures behind them. It can be seen as an 'Archaeology of an Uncertain Future'.
I believe on a research—based design practice that should be a tool to encourage the imagination and intellect of the audience through an abstract and less literal approach. I am interested on method rather than format. Dialog is my path.
1. Claude Lévi-Strauss. 1962. The Savage Mind. The University of Chicago Press.
2. Arnold Van Gennep. 1960. The Rites of Passage. Routledge Library Editions, Anthropology and Ethnography. p.21.
MA programme application.
El Elixir Duplicador
Imaginemos un intercambio infinito, de mano en mano, disco duro en disco duro, servidor en servidor, desde Internet hasta la Nube
1
. Que, como una red de arrastre, acumule y registre una era. Sea su retrato.
Miremos Internet y veamos el uso y desarrollo contemporáneo de las imágenes que los usuarios realizan. Podemos observar cómo la figura del diseñador gráfico se difumina, tener una cuenta en una Red Social nos convierte en productores, reproductores y coleccionistas de imágenes.
Hemos pasado de recolectar para sobrevivir a coleccionar por placer. De recolectar frutos y leña a .jpgs, .pdfs, .avis, .gifs. Estamos hablando de la Era Digital, consecuencia del Capitalismo del siglo XX, hija de la Revolución Digital y caldo de cultivo de la cultura Post-Internet. La reflexión que nos ocupa es el uso, intercambio y desarrollo del archivo digital contemporáneo, y en concreto su valor, directamente relacionado con su proceso de abstracción.
Construimos identidades a través de colecciones
2
, el objeto de colección tiene un valor, el valor que le da el espectáculo
3
que produce. Es un valor abstracto, de intercambio, del mismo modo que empezamos a acuñar monedas hoy programamos 'likes' 'retweets' 'favs' 'reblogs' 'pins'. El objeto es un archivo digital, hecho que eleva el nivel de abstracción. La mercancía es virtual y nosotros, la masa, alienada, somos productores, en un proceso supertecnológico que elimina nuestra conciencia de producción y la convierte en contemplación. Copiar, pegar, descargar, rippear, cortar, mezclar, subir, compartir, rebloguear
4
. Como sumergidos en un 'Elixir Duplicador'
5
retro futurista.
1. Metahaven. 2013. Captives of the Cloud, Part III: All Tomorrow's Clouds. e-flux.
2. Paul van der Grijp. 2006. Passion and Profit, Towards an Anthropology of Collecting. Lit. p.8.
3. Guy Debord. 1967. La Société du Spectacle.
4. Hito Steyerl. 2009. In Defense of the Poor Image. e-flux.
5. Fujiko Fujio. 1973-1996. Doraemon: El Elixir Duplicador. Youtube.
Between the Wanker and the Researcher II
In order to clarify the concepts/states of Wanker and Researcher. This duality is built around the concern of 'Reason'
1
. Our need of questioning, but also our need of ignoring.
Do we always have a Reason?
2
Isn't it a human basic behaviour to disconnect? Don't we need to refresh our mind by 'jerking'? The Wanker is an hedonistic, is an Amateur. His mind is childish and reckless, unconscious. He plays, he is playful, and sensitive, to win is not what matters. But he never loses, he is playing on his own. He never stops laughing, loud, and personal, he is recognisable, because his laugh is a mirror. A mirror that reflects his real fascination.
The Researcher grew up. He is taller than the Wanker. He is stronger and smarter. His face is grumpy. He is conscious and pragmatic. The Researcher is the guide, he is the prophet, he is the chief. He read the future, and try to find it, now, in the present. He is tireless. He has a role, he is looking for something, he is the Reason-hunter.
Both use to be alone. In their own. None have the power of making them meet. Their relation is utopian. The truth is in their balance.
1. Janneke Wesseling. 2011. See it Again, Say it Again. Valiz. p.9.
2. Quentin Dupieux. 2011. Rubber - No Reason (Opening Scene). Youtube.
Between the Wanker and the Researcher
This is about me, my mind, today, nowadays, not tomorrow. Who knows what would happen tomorrow. And who cares.
It is also about politics, not like everybody have on mind, I am talking about positioning on a field. Seems big. It is big. I will try to focus. Is the field Design? No, the field is life. Design is a state of mind. It is a way of life. Design is not about making beautiful posters or confortable chairs. Design is about reflecting, it is about being interested on. It is about digging and finding your place
1
. It is about asking and about answering. But mostly is about talking
2
. Design is a process
3
rather than a Divine Providence
4
. It is long fucking rather than premature ejaculation. Design grows if there is pleasure.
Pleasure is an state in balance between a Bipolar Disorder. On one side we have the Wanker. On the other side we have the Researcher.
1. Martino Gamper. 2013. Martino Gamper - Lecture. Vimeo. 16:24
2. Lust. 1996. lust.nl/lustArchive/96. Dialog.
3. Luna Maurer, Edo Paulus, Jonathan Puckey, Roel Wouters. Conditional Design Manifesto.
4. The Holy Bible.
Dutch Design Mafia Families
This is a true story about Thomas Castro. This guy who you can love or you can hate, but a guy who can really influence you anyhow.
He is co-founder of Lust studio and the head of the graphic design department at ArtEZ. He has being it for three years, that means that he has the power over what happen at ArtEZ education right now. This school is independent from any other institution so they have the freedom to decide what is going on there. I could talk long about that but one of the improvements of the education system that really affected me is the exchange students policy. Since he is head of the department ArtEZ changed from having two exchange students per year to having six exchange students per semester. They are conscious about the importance of mixing cultures. When we, the exchange students, arrived to ArtEZ he invited us to have dinner. It was in an Indonesian restaurant
1
since he is a big fan of asiatic food. The situation was impressively natural and, at the same time, unusual. He is an extremely talkative person and at one point of the conversation somebody asked about the actual direction of dutch design. Thomas came up with a smart and didactic methaphore known as 'Mafia Families' theory about dutch graphic design.
It is a theory to explain what happend and how it developed during last fourty years. Everybody knows about the big and famous debate
2
at Museum Fodor, Amsterdam, in November 9th 1972, between Wim Crowel and Jan van Toorn, but less people know about the figure of Karel Martens
3
, dutch designer, teacher at ArtEZ til 1994 and co-founder and header of ArtEZ typography master Werkplaats Typografie til this year, he just retired. So Karel closes the circle to understand the three different fascinations of dutch graphic design practice.
Thomas arrived from California after studying Fine Arts and looking for the well known dutch design at the end of the eighties. There he tried some schools before he met Karel, in this moment director of ArtEZ, so he convinced him to study in Arnhem.
Karel is highly fascinated by technology and, on my eye, this is one of the main characteristics of dutch design. We could say it inquires really deep into reality in a way that is not nostalgic but conscious about asking itself all the time 'what is the next step'. Technology is a reflect of times and contemporary behaviours are closely influenced by it. Society is growing at the same rithm as technology does. This is the third Mafia Family. Lust was influenced by this approach as we see in Lust Lab practice, still nowadays testing and trying the new possibilities.
Wim Crowel is well known by his rational, objective and modernist approach over graphic design. The development of graphic systems that erase the hand of the designer by showing pure typographic compositions, as a non intervention between the client and the message. Experimental Jetset, Amsterdam based design studio, is well known by taking part on this neutral and typographic approach.
Jan van Toorn, in the other hand, is political and provocative. He believes that in any design process the designer has to take a position, and this subjective position will help to get a wide range of design possibilities rather than an universal one. It is a fact that Jan is the most influencial designer over dutch design practice nowadays, when the designer gets an important role and, not just the close relation between art and design but the multidisciplinary and political approach raises the discipline to the next level.
We can see these three aproaches like extremes that nowadays mix each other, the new designers don't use to position themselves just in one of them but in a huge range of greys on a research based conceptual design practice. After that, and once we finished having dinner, Thomas asked the waiter if he could pack the leftover so we had Indonesian food the rest of the week.
1. Lestari Indonesisch Restaurant, Nieuwstraat 50, 6811HX, Arnhem.
2. Poynor R. (2008), The Debate. The legendary contest of two giants of graphic design. The Monacelli Press.
3. Dutch profiles: Karel Martens. Vimeo.
About The Netherlands
Many times I have had to explain my experience in The Netherlands. And many times I will have to, because when I talk about design I cannot avoid talking about this country. There is where my thoughts started being less confusing.